GC2145 camera support
I've been analyzing how the sensor works via the same workflow and tools I made for HM5065. GC2145 was even nicer in this regard, since it doesn't need stopping/restarting the stream when changing settings in the sensor's registers.
My setup is:
use a basic camera driver that powers up the camera sensor and exposes V4L2 debug interface that allows modifying arbitrary camera sensor registers
run my cam-dmabuf app that grabs frames from the camera and displays them on screen using a DRM buffer import using a video plane scaled to the whole screen
simultaneously run cam-cli CLI tool to test/experiment with modifications of various camera sensor registers over the debug interface
simultaneously run logic-probe tool that can capture and show CSI signal capture in pulseview, when necessary (it can capture at 6MHz sampling rate)
This is pretty neat, since I can both see the signalling: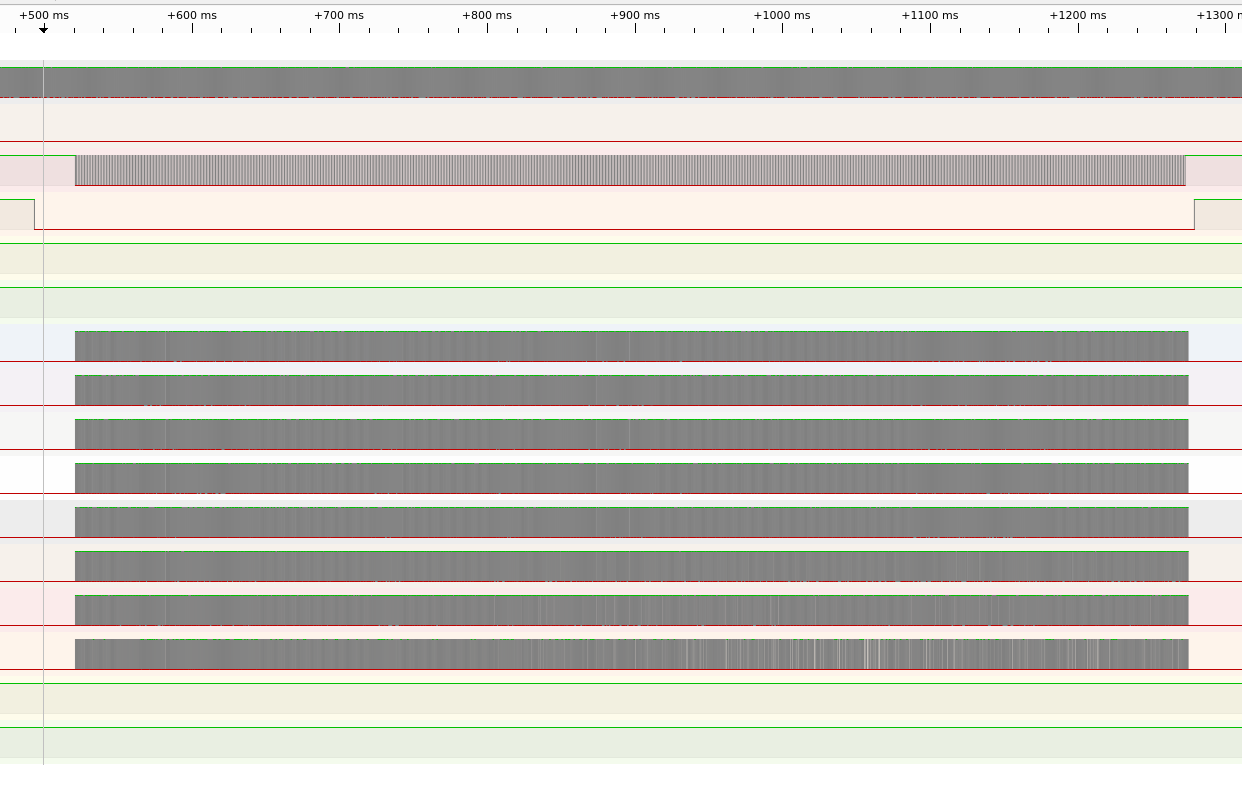 And the effect of register value changes on the screen in real-time. This makes testing and understanding the registers very easy.
Powerup
Powerup requires enabling power supplies in the following order:
DVDD, 50us, IOVDD, 10us, AVDD, MCLK enable, PWDN low, #RESET high
Power down
Power down allows to disable power supplies at once. There's no "at once" in reality, so we just use the reverse order of the powerup sequence.
GPIOs that control RESET and PWDN pins are put into hi-Z mode, to avoid any kind of leakage. There are pullup resistors that ensure the signals are in defined state when the power is still applied to the sensor.
Reset
Reset can be done via GPIO. There's no need to initialize the sensor register values manually to the reset values as the BSP driver does. The registers are initialized automatically.
Power save
Power save mode can be entered by pulling PWDN signal high. Register values are preserved in PWDN mode and the CSI signal drivers are put in hi-Z mode.
Clocks
We need to be able to understand and control clocks in order to control the upper margin for framerate and lower margin for exposure. The sensor can use internal PLL to derive clock signals from externally supplied MCLK.
So far I have the following understanding of the clock tree, which looks like this:

2PCLK = MCLK / D * N / M where:
D = 2 when P0:0xf7[1] is set, otherwise 1
N = 2..17 set in P0:0xf8[5:0] (register range allow higher N, but working values are up to 17)
M = 1..16 set in P0:0xfa
K = 1..8 set in P0:0xf7[6:4]
PCLK signal that can be measured at the output from the sensor is derived from 2PCLK clock under these circumstances:
scaler is not used (P0:0xfd = 0) PCLK signal has frequency 2PCLK and respects the duty cycle set in P0:0xfa.
scaler is used (P0:0xfd = 1) PCLK signal has half the frequency of 2PCLK and the duty cycle is 1:1.
It's possible to bypass the PLL by setting bit P0:0xf9[0].
DCLK has documented upper limit in the datasheet at 168MHz. Experimentally, I've found that DCLK is limited to around 200MHz (N=17 and MCLK=12MHz ⇒ DCLK=204MHz). Althoug N=17 causes some color distortion that can be corrected by using N=16.
Parallel interface
When bypassing the PLL, enabling MCLK DIV2, and maxing out M, we can achieve 2PCLK of 750kHz. At this speed, it's possible to get unaliased captures of all CSI signals. This is useful for understanding effects of various horizontal/vertical timing options.
Parallel interface is configured in register P0:0x86.
There are a lot of moving bits here, so let us reference all signals to PCLK cycle. Non-inverted PCLK cycle is defined as a periodic HIGH LOW pattern and all signals change at the start of the cycle.
So for example when P0:0x86 is set to 0x04, the signals look like this (PCLK duty cycle is set to 1:8):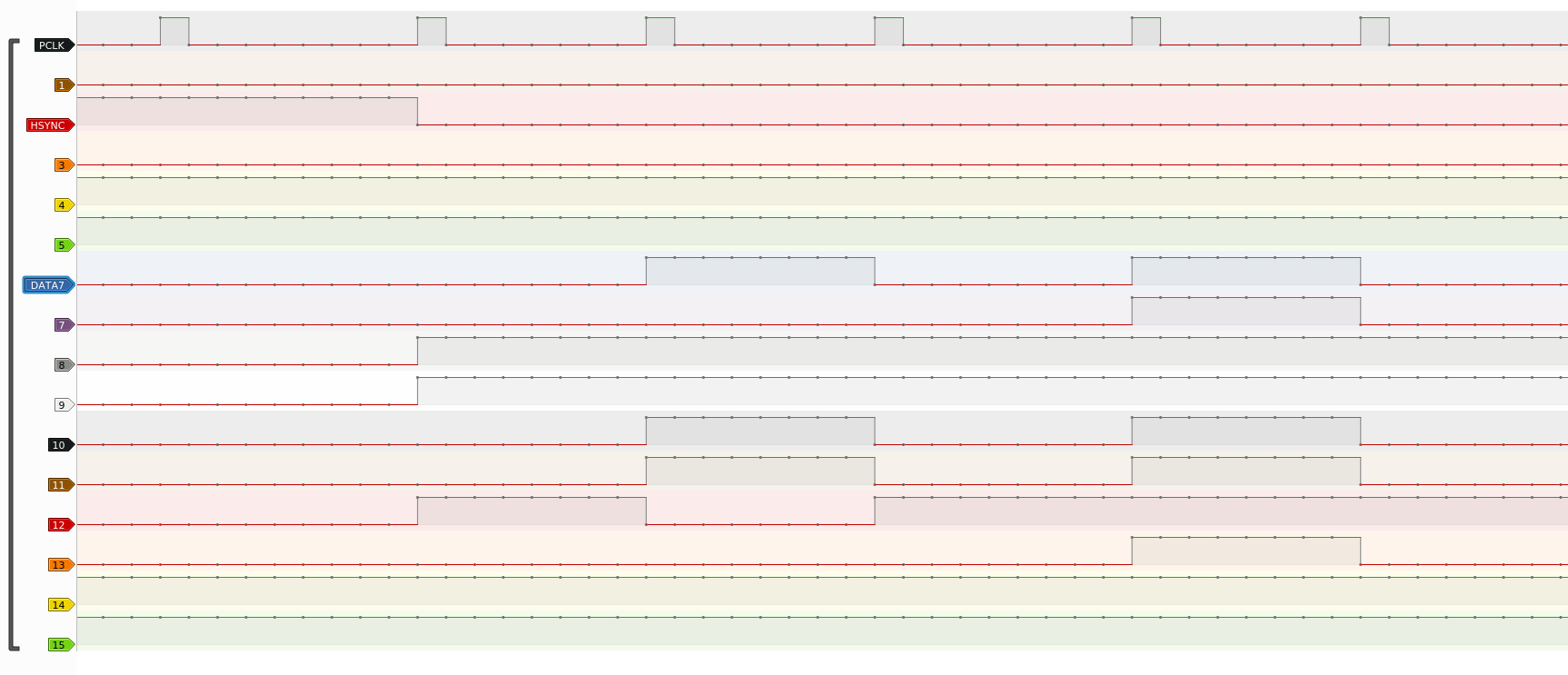 So with this configuration CSI controller in the SoC should sample signals at the falling edge of PCLK, when the signals are stable. (One exception is end of VSYNC pulse, which chnages in the second half of the PCLK cycle, for unknown reasons.)
The bits in P0:0x86 mean:
[0] 0 – VSYNC pulse high prior to start of the frame (ie VSYNC low during the frame transmission)
[1] 0 – HSYNC pulse high prior to start of the row (ie HSYNC low during the row transmission)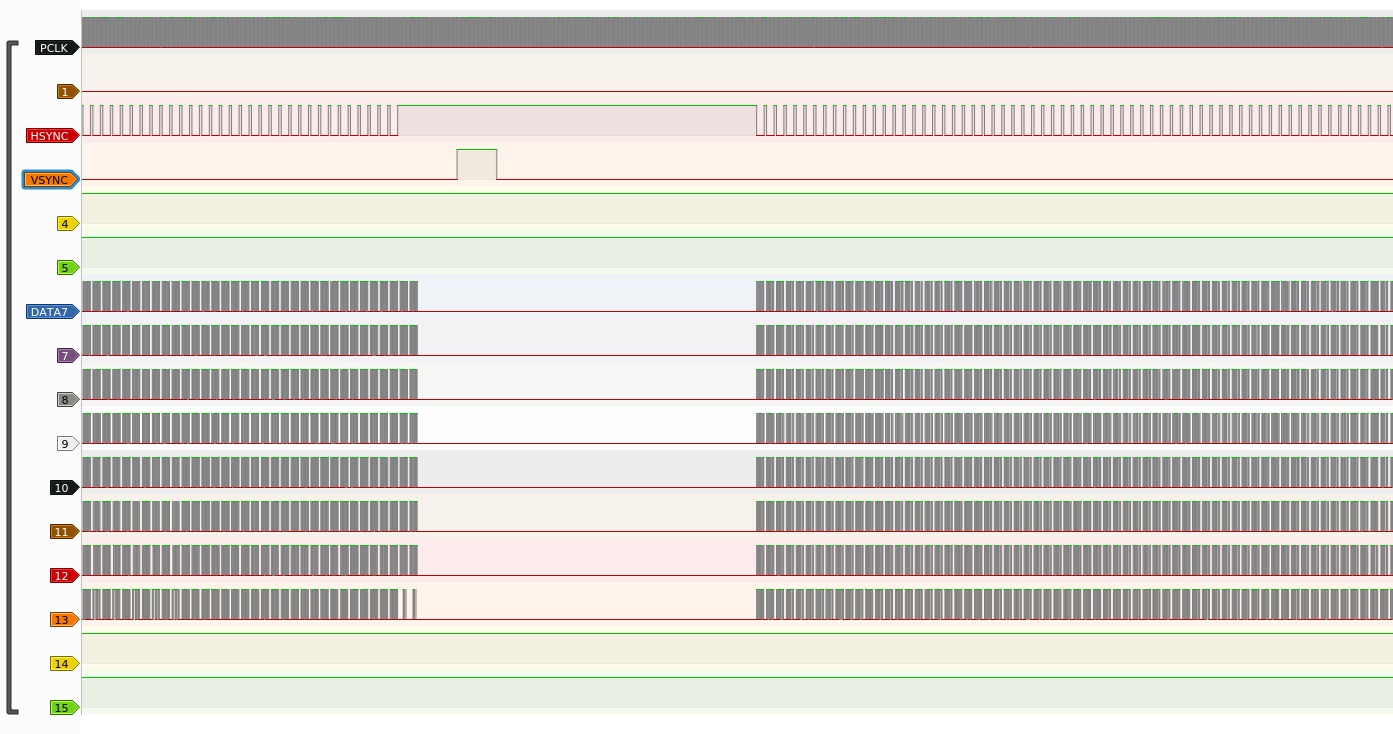 [2] 1 – PCLK is not inverted (HL cycle) – see above
[2] 0 – PCLK is inverted (LH cycle):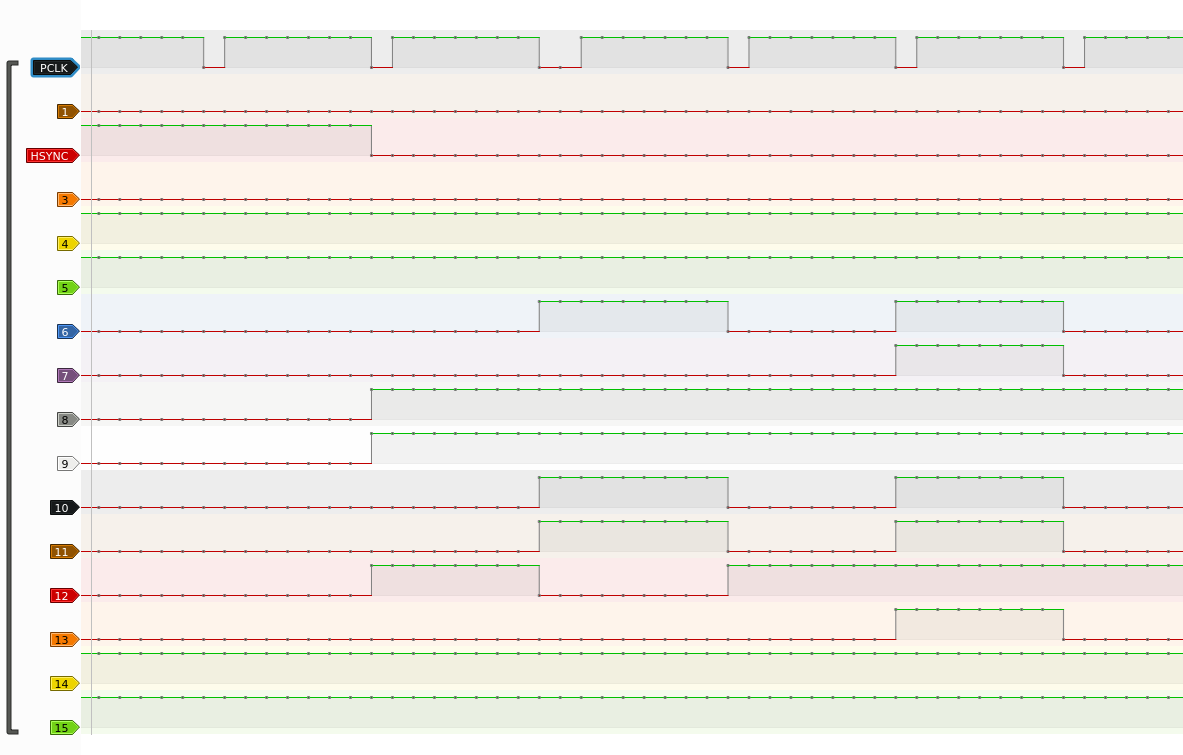 [3] 1 – PCLK is gated when other signals are not changing (see image below)

[6] 1 – HSYNC changes in the middle of the PCLK cycle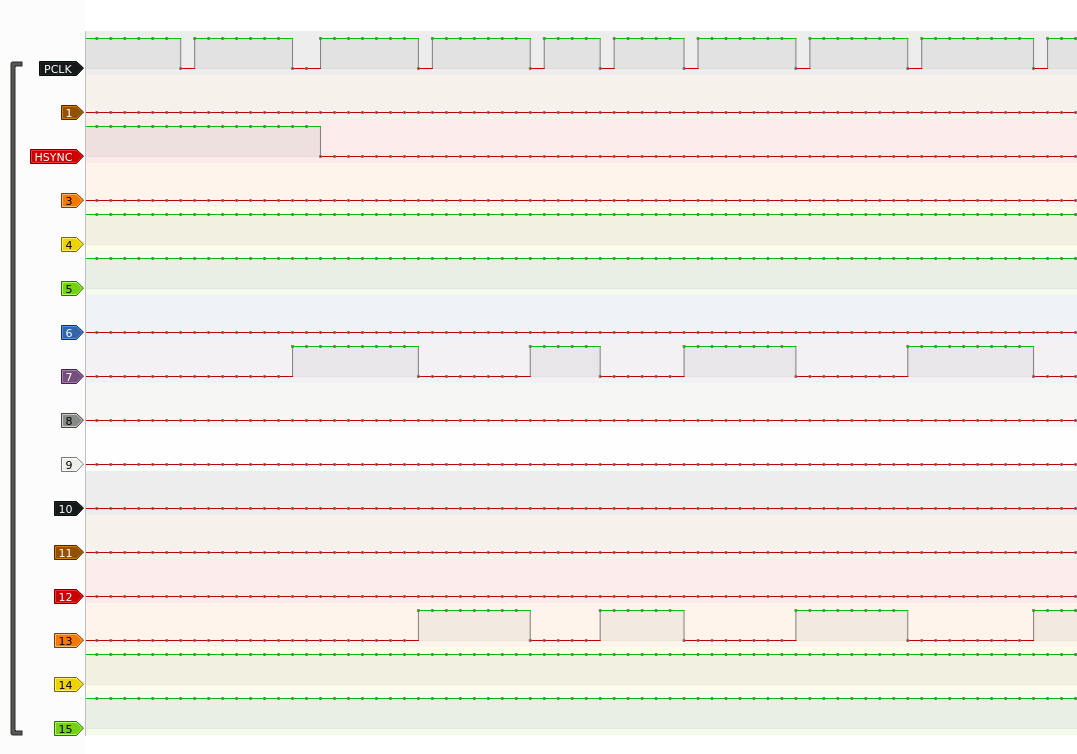 [6] 0 – HSYNC changes at the beginning of the PCLK cycle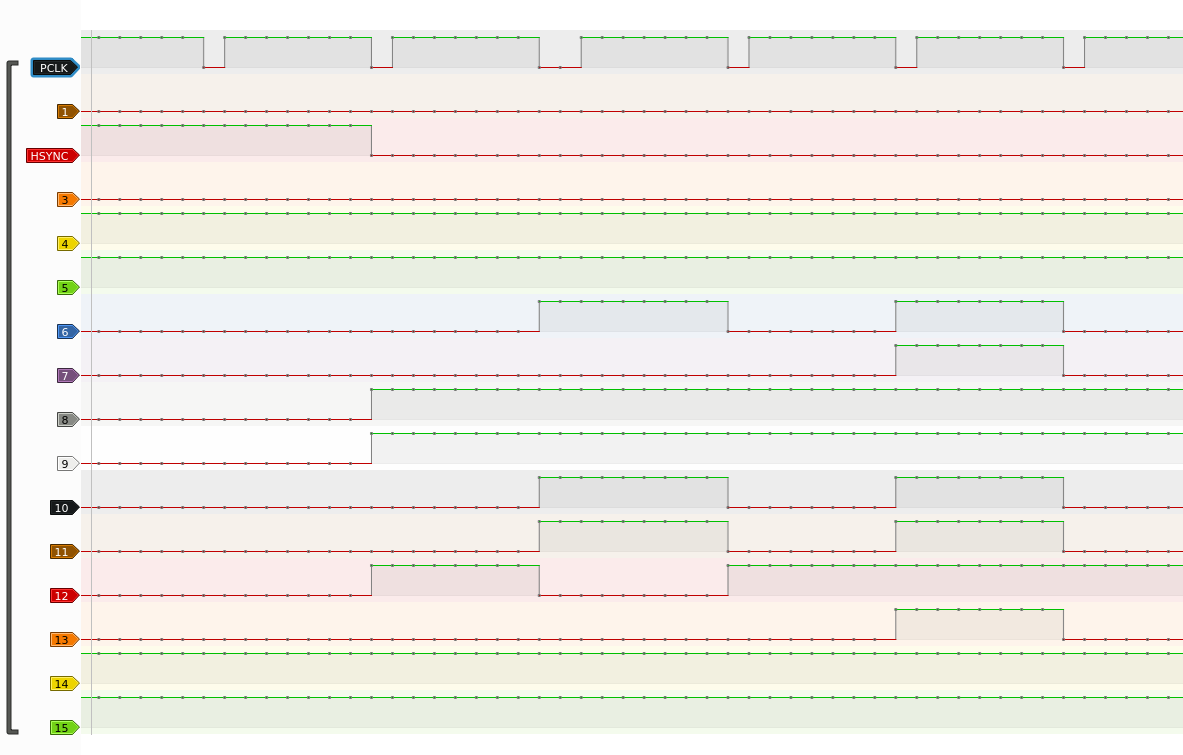 [7] 1 – DATA changes in the middle of PCLK cycle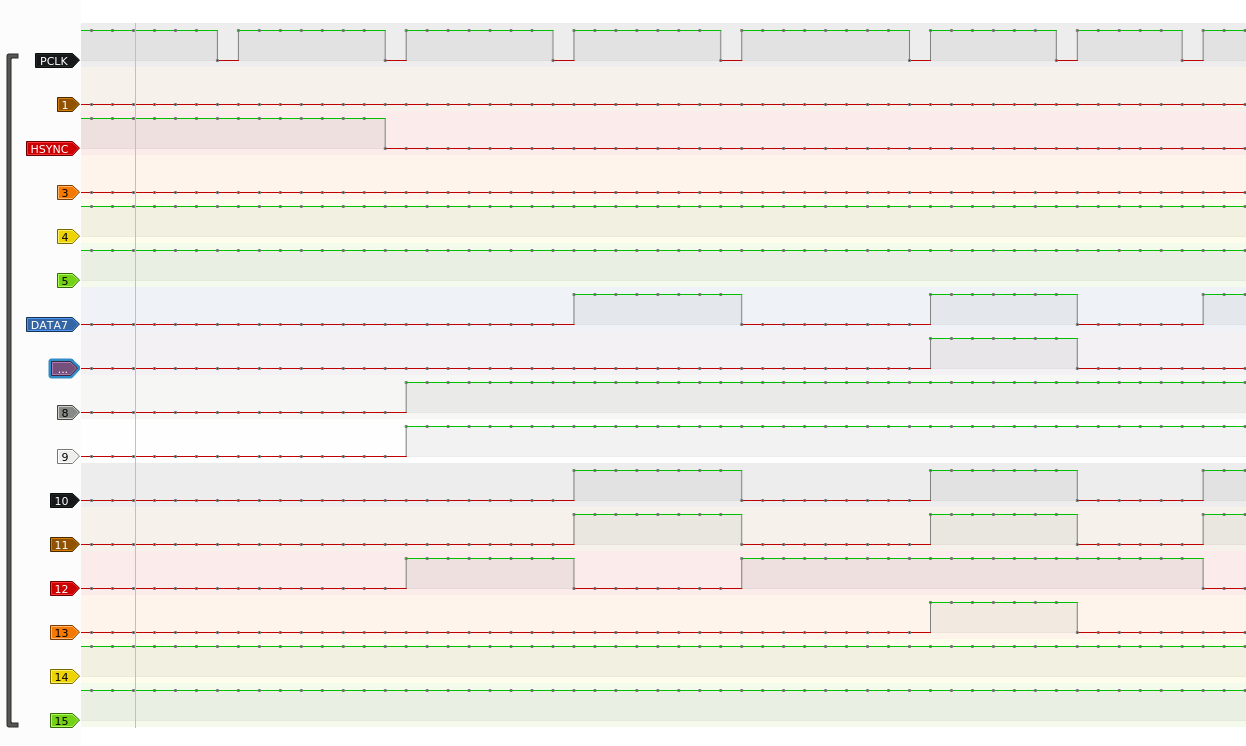 [7] 0 – DATA changes at the beginning of PCLK cycle
CIS – CMOS image sensor control / readout
CMOS image sensor circuitry works by reading out pixels from the sensor array row by row, passing voltage through an analog amplifier to A/D converter and then to ISP (digital post-processing of RAW sensor data).
GC2145 allows to control this process by:
setting column/row offsets where to start the readout
setting number of columns/rows to read out
reading out by skipping even rows and/or columns
changing the direction of the readout (h/v flips)
The speed at which data are read from the sensor determines the speed at which it will be sent on the CSI bus. The way data are read out from the sensor, also determines the field of view. So there are several concerns here:
To achieve the maximum resolution, we need to scan the entire pixel array consisting of 1616×1232 pixels.
To achieve the maximum field of view we also need to scan across the entire pixel array, but we can improve frame rate, by skipping rows and columns.
To achieve higher frame rate we have to limit the amount of pixels scanned, though we're limited by the need for enough exposure time.
Alternatively, for better picture quality, we can use the scaler, and scan out the full image and scale it to half the size by averaging neighboring pixel values.
With row/column skipping, we should be able to comfortably achieve 30 FPS at 800×600 with full FOV.
Manipulating vertical blank time setting allows to fix framerate while allowing to change exposure without it affecting frame rate.
Sensor specification lists the framerate limit at 30 FPS at 1600×1200. A83T CSI limit is 30FPS at 1280×720 (translating to about 50–60MHz PCLK limit).
Strategy for format selection
Subdev API allows to select frame rate and resolution. Based on this information sensor driver will have to decide what settings to use for the sensor, to achieve the best image quality.
Following strategy will be used:
determine if scaler can be used: W and H are both smaller than half the sensor pixel array size, use the scaler
determine if requested FPS can be achieved with the scaler enabled, if not use row/column skiping instead
determine if subsampling can be used to increase the FOV for the current setting
select PLL settings based on whether scaler is used or not
determine AEC settings to get proper exposure for selected PLL settings
determine vertical blank time for the selected framerate